George Ernest Luck, died 10th July 1918, aged 41.
Private 41434, 18th Battalion, The Duke of Cambridge's Own (Middlesex Regiment).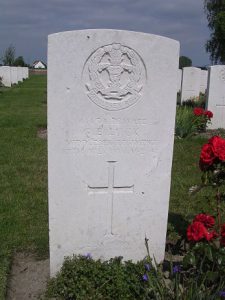 George Luck was born in Goudhurst on 23rd May 1877 and brought up with 12 siblings at Risebridge, worked as a bricklayer's labourer and also on seasonal farming jobs. He was living at No. 2, Rose Cottage on Clay Hill when he enlisted in November 1914 in The Buffs' Territorials, understating his true age by four years, presumably to ensure acceptance. After two or more years' home service, he went abroad, joining the Middlesex Regiment's Pioneer battalion to do heavy labouring work, though in the major German offensive in the spring of 1918 they became involved in frontline fighting. George Luck was killed by shellfire and is buried in Hagle Dump Cemetery near Ypres; his brother James and two cousins also died in the war.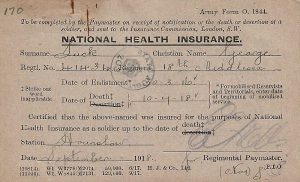 Parish Magazine, St Mary's, Goudhurst, August 1918
Our Roll of Honour
Pte. George Luck, 18th Middlesex Regiment, was born and educated at Goudhurst. On leaving school he worked in various ways about the parish, but principally as a bricklayer's labourer. He joined up soon after war broke out, and for two years was at Chattenden Barracks, near Chatham. He went to France in September 1916, and has been home once since. He was killed on July 10th, 1918 instantaneously by a shell as the regiment was going back from the line. His Platoon Office and Chaplain write saying that he was an excellent soldier, and that he will be very much missed in the Regiment. He was in his 42nd year. Very great sympathy is felt with Mr and Mrs Thomas Luck, Risebridge, as this is the third son they have lost in the course of two year, two in France and one at home who had long been an invalid.
Kent & Sussex Courier 26th July 1918
Pte G Luck
Mr and Mrs Thomas Luck of Risebridge have received notice that their son, Private George Luck, – the Middlesex Regiment, aged 41, was killed in action by shell fire in the early hours of the morning of the 10th July, coming down from the line. His death was absolutely instantaneous. His Commanding Officer says of the deceased "He was an excellent soldier and was always very popular with his comrades" and asks the family to accept the deepest sympathy. He adds; "I know what a shock this will be and it all seems very hard, yet we must try and realise that he still lives, loves and cares as before, that he has merely passed into fuller life and that we shall see him again. We are burying him to-morrow in a Cemetery near here." The deceased was born at Goudhurst and educated in the village school. He afterwards worked in various capacities in the parish and when the war broke out he volunteered for service. He was at first employed in guarding the munition works at Chattenden and then ordered to France in September 1917. This is the second war bereavement in the same family. There are two other sons serving in Salonica and a third (wounded) is employed in timber work in Berkshire.