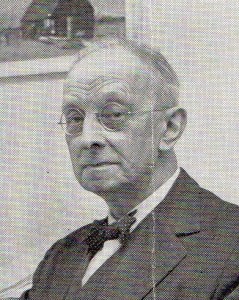 Richard Church was born on 26 March 1893 in Battersea, London. His father was a sorter for the General Post Office and his mother was a schoolteacher who suffered ill-health and died in 1910 when he was only seventeen. He attended Dulwich Hamlet School and, on leaving school at sixteen, he started work as a clerk in the Customs and Excise branch of the Civil Service. His first book of poems ("The Flood of Life") was published in 1917 but he remained in the Civil Service until 1933, when he left to become a full-time writer.
In 1939, Richard and his second wife Katya (Katherina) purchased and renovated The Oast House at Curtisden Green. When Katya died in 1965, Richard moved to The Old Stable, Scotney Castle. He married his third wife, Dorothy Beale, a widow, in 1967. Although they initially lived at The Old Stable, they subsequently moved to The Priest's House at Sissinghurst Castle where he died suddenly in March 1972.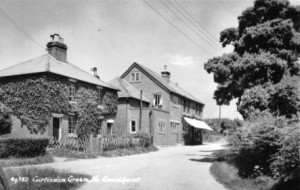 Richard loved the Kent countryside and this is reflected in much of his writing. In 1948 Robert Hale published "Kent" – one of the County Series – that had been written by Richard. In the chapter entitled "A Stone's Throw from Home" he writes at length about Goudhurst; the historic houses, the famous families of history, the panoramic views, the gardens, the people he meets, the church and the hours he spent on top of the tower whilst on Home Guard duty during the war. His anthology "The Little Kingdom: A Kentish Collection", published in 1964, included the following:
"One of the many tiny tributaries of the Teise runs through the sequestered Combourne Valley east and west, and waters the woodlands, hop-gardens, and orchards, farmlands of the yeoman family of Wickham, a family rooted for centuries in the neighbourhood of Goudhurst."
He was also a contributor of essays on country matters to various publications including the magazine Country Life. One of his last public appearances was at the memorial service in Goudhurst church for his friend and literary colleague Christopher Hussey of Scotney Castle, when he gave the address.
Among his other friends living locally were H E Bates at Little Chart and Dame Edith Evans at Kilndown (see separate entry). The last words spoken in public by Dame Edith, shortly before she died, came from one of Richard's poems:
"Some are afraid of Death.
They run from him, and cry
Aloud, shrinking with fear
When he draws near.
Others take their last breath
as though it were a sigh
Of sheer content, or bliss
Beneath a lover's kiss.
Perhaps it is not much,
After life's labour,
That summoning touch
Of Death, our neighbour."
Richard was made a CBE in 1957 after publication of the second volume of his autobiography entitled "The Golden Sovereign".