George William Neal, died 3rd October 1918, aged 44. Private 56368, 17th Battalion, Essex Regiment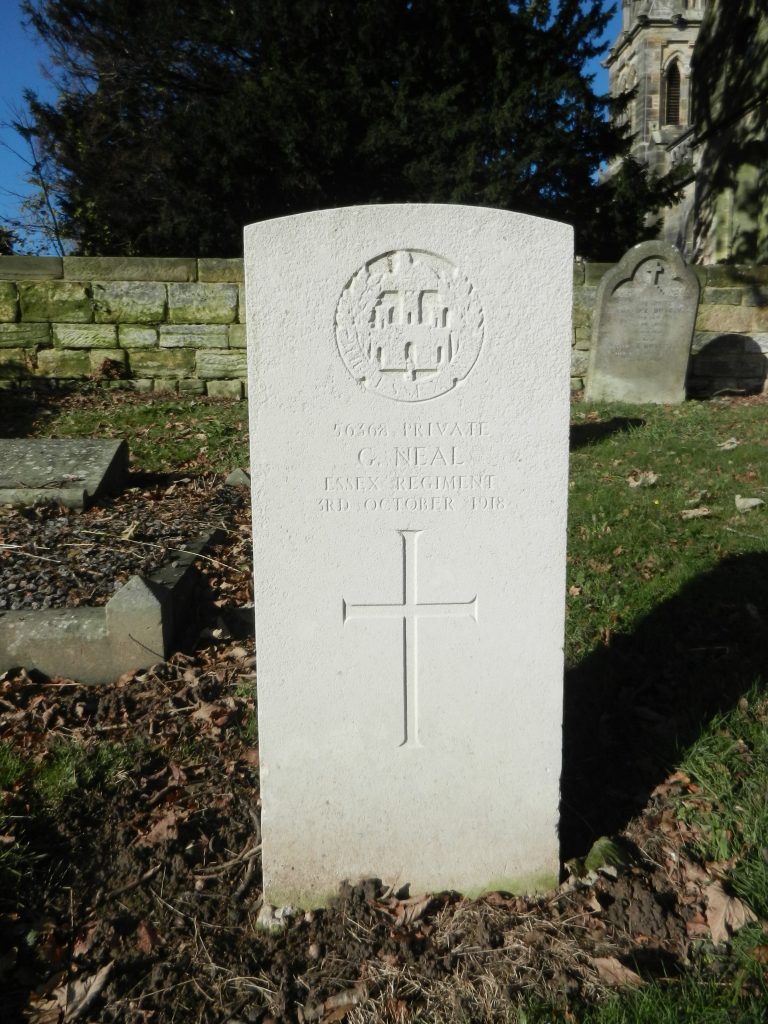 George Neal was born in Hawkhurst in about 1874, the eldest son of Thomas and Sarah Neal (née Pocock). They had one other son, Thomas, born about 1877. In 1891 the family were living at Delmonden, Hawkhurst and George, aged 14, was employed as a milkman. The 1901 census shows George and his parents living in Flimwell, where George was employed as a general labourer. He enlisted in the army in Canterbury and, as an older man, probably never left England during the Great War; his (Territorial) Battalion of the Essex Regiment was based in Norfolk throughout the war. According to a report of the inquest into his death which appeared in the Kent & Sussex Courier of 11th October 1918, he "had suffered from ill-health, and been found dead, hanging from a tree in Bedgebury Woods. Verdict: that the deceased hanged himself while suffering from depression."
George Neal is buried in Kilndown Churchyard where his grave is marked with a Commonwealth War Graves Commission headstone.
Kent & Sussex Courier, 18th October 1918
Inquest
On Saturday Mr. Coroner Murton held an inquest touching the death of Private George William Neale, Essex Regiment, who had suffered from ill-health, and had been found dead hanging from a tree in Bedgebury Woods. Verdict: That the deceased hanged himself while suffering from depression.
*********************************************************************************************************
Hugh Frederick James Vincent, died 25th September 1915, aged 37. Private G/2641, 8th Battalion, The Queen's (Royal West Surrey) Regiment.
Frederick Vincent, as he appears to have been known in later life, was registered at birth early in 1878 with the surname Vinson. Official records about him and his parents are extremely sparse. Goudhurst was his birthplace according to 'Soldiers Died in the Great War', which also shows that he enlisted in Chelsea although apparently living in Flimwell at the time. The Commonwealth War Graves Commission shows his mother as the late Mrs Katherine Vincent.
He went to France with his battalion on 31st August 1915. They spent the first three weeks training and were then pitched into the Battle of Loos, losing 421 men as casualties – about half their strength – on 26th September, which is probably the true date of his death. His name is inscribed on the Loos Memorial to the Missing, panel 13-15
*********************************************************************************************************