Sydney Frank Osborne, died 25th July 1916, aged 30.
Rifleman 5509, 1/8th Battalion, London Regiment (Post Office Rifles), attached 1/9th Battalion, London Regiment (Queen Victoria's Rifles).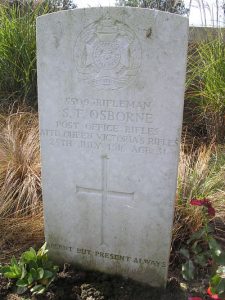 Born on 14th on 14th October 1885 he was brought up in the centre of Goudhurst where he worked successively as a paperboy, a grocer's assistant and a postman, and enlisted on 1st March 1916. He landed in France barely four months later, and within only three weeks was killed by shellfire in trenches at Foncquevillers on the north side of the Somme battlefield. He is buried in Foncquevillers Military Cemetery. A small plaque was also placed on the family grave in Goudhurst.
Kent & Sussex Courier, 19th August 1916
Rifleman S F Osborne
Mr and Mrs Frederick Osborne of Clayhill Mount, Goudhurst have been informed that their son, Sidney Frank Osborne, of the Post Office Rifles (aged 31 years) was killed in action on July 25th. He was well-known in Goudhurst, having spent all his life in the village until he enlisted at the end of February last. He had been at the Front only a few weeks. He was respected and liked by everyone for obliging manners and upright character. He began the business of life as "paper boy" to Mrs Stevens and then was for several years a grocer's assistant in the village with Messrs Allwork Brothers. After that, until he enlisted, he was a postman and a very useful man in various occupation. His father (now retired) had been in the Post Office practically all his life. His two brothers are serving their country – William being in the Royal Flying Corps and Jack in the Royal Naval Air Service. The Corporal of the deceased's Platoon writes "Dear Mrs Osborne it is with deepest sympathy that I write to you on the death of your son. He was killed July 25th at 11am by a shell which landed in the trench. He was killed instantly and suffered no pain. He was only with us a little while but during that he proved to be a good soldier and of a generous disposition. My Section and myself wish to convey to you our very deepest sympathy and share with you this loss and it there is anything that we can do to alleviate this loss we shall be only too pleased to do it. Believe me, yours sincerely, Corporal A Lambert.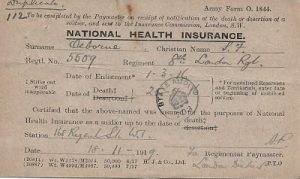 Sydney was also a member of the Goudhurst Oddfellows Lodge: Membership application form