William Roff, died 10th August 1917, aged 23.
Private L/9910, 1st and 8th Battalions, The Buffs (East Kent Regiment).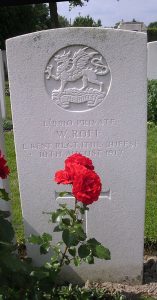 Born 28th July 1894 in and brought up in Benenden, William Roff then lived and worked in Goudhurst before enlisting in The Buffs in December 1912 at the age of 18. His battalion first fought the Germans on the River Aisne in September 1914, spent the winter of 1914/15 in wet trenches near Armentieres, then moved on to the Ypres Salient. He was evacuated to England – not once, but twice – in 1916, and got married in St. Mary's Church, Goudhurst on 11th November of that year. He crossed the Channel for the final time on 7th June 1917 and died of wounds incurred during a raid on German trenches near Ypres, south of the Menin Road. He is buried in Brandhoek New Military Cemetery. His name is also on the war memorial in Benenden.
William Roff was also a member of the Goudhurst Oddfellows Lodge: Membership application form