Albert Chenery, died 14th March 1917, aged 34.
Private G/24733, 2nd Battalion, The Queen's (Royal West Surrey) Regiment.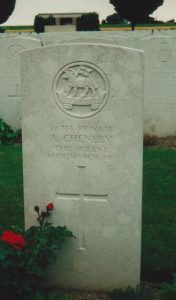 Born at Tattlebury, on 12th February 1883 Albert attended school in Goudhurst and his working life included a spell at Hawkridge Farm near Wilsley Pound, gardening at Tattlebury, and delivering goods for Burgess's shop. He joined the army in March 1916 and was involved in the Battle of the Somme before his battalion moved briefly to the Ypres salient. They returned to the Somme for the winter of 1916/17, where Albert Chenery was killed near Puisieux during an attack by his battalion in the early hours of 14th March. He is buried in Queens Cemetery, Bucquoy.
Parish Magazine, St Mary's, Goudhurst, May 1917
We much regret the loss of another Goudhurst man on the field of battle. Pte. Albert Chenery, 3rd Buffs, was brought up and educated at Goudhurst. On leaving school he went to farm work, then he was employed in the garden at Tattlebury and then entered Mr Burgess' service to deliver goods. He was a a very useful cricketer. He enlisted in March 1916, and went abroad in July, he was killed in action on March 14th 1917. He was 35 years old.
Kent & Sussex Courier 11th May 1917
Our Soldiers
We regret to report the death of another of our old "boys". Pte. Albert Chenery, 3rd Buffs, at the age of 35, "killed in action". Chenery was well-known in the village and neighbourhood, very cheerful, active and obliging and very useful on the cricket and football field.