Albert Luck, died 28th April 1917, aged 22.
Private G/40531, 4th Battalion, The Duke of Cambridge's Own (Middlesex Regiment).
Born at Combourne 16th December 1894, Albert attended school at Winchet Hill and went on to work at Bockingfold Farm and elsewhere. He enlisted in March 1916, landed in France in September, and took part in the final week of the Battle of the Somme in November. After a quiet winter recuperating, the 4th Middlesex were involved in two phases of the Battle of Arras, a fortnight apart, in April 1917. In the first, their fighting strength of about 800 suffered 201 casualties at Monchy-le-Preux; in the second phase, the remnants were reduced by a further 281 men, including Albert Luck, who was recorded as "Missing". His name is recorded on the Arras memorial and on the family grave in Goudhurst. His brother Hugh died in France in October 1918.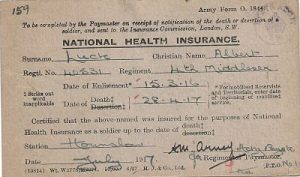 Parish Magazine, St Mary's, Goudhurst, July 1917
Private Albert Luck, 4th Middlesex, was born at Comborne, and went to school at Winchet Hill. On leaving school he went to work at Bockingfolg, but later left the parish for a while. He joined the army of his own accord in March, 1916 and was drafted over to France in September of that year. He was in hospital for some little time and had only quite recently rejoined his unit, when he lost his life in action on April 23rd (sic). He was in his 22nd year.
Kent & Sussex Courier 6th July 1917
The Death Roll
Private Albert Luck (of the Middlesex Regiment), who joined the Army of his own accord in March 1916 and was drafted over to France six months later, was killed in action on April 23rd (sic) in his 22nd year.
Albert Luck was also a member of the Goudhurst Oddfellows Lodge: Membership application form