Alfred William Bateup, died 10th November 1918, aged 23.
Private DM2/221148, Mechanical Transport Company, Royal Army Service Corps, attached 156th Siege Battery, Royal Garrison Artillery.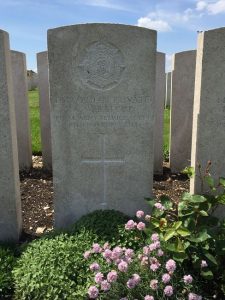 Alfred was born 14th September 1895 and brought up at Harper's Farm, Winchet Hill. He attended the local school, and worked with horses on a farm there before taking a job at Maidstone. In 1916 he was called up and went to France. His wartime activities are not known, but he evidently progressed from horses to mechanical transport, and in 1918 when the previously static warfare suddenly became mobile, he became involved in transporting the army's heaviest form of artillery. However, on the penultimate day of the Great War, he succumbed – like so many other young men – to the Spanish influenza epidemic sweeping through Europe. Alfred Bateup is buried in St. Sever Cemetery Extension in Rouen, far from the battlefields but only yards from his Winchet Hill neighbour, Hugh Luck, who died a fortnight before.
NB: His surviving army records and his CWGC headstone all spell his surname incorrectly as Batcup.
Parish Magazine, St Mary's, Goudhurst, December 1918
Private Alfred Bateup, A. T. C. was born at Curtisden Green and educated at Winchet Hill. He was working at Maidstone when he enlisted. He went out to France in 1916, and died in Hospital from influenza on November 10th 1918, in his 23rd year.