Arthur James Kemp, died 30th March 1918, aged 21.
Private 682693, 2nd/22nd Battalion, London Regiment.
Arthur was born on 13th September 1896 above the grocer's shop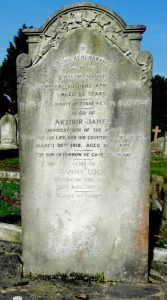 in North Road run by his father,Edwin, who in 1902 replaced the old premises with the building now called "Grand View". An exception to most village boys, Arthur attended the Judd School and progressed to London University. In November 1915, he and both his brothers enlisted in the London Rifle Brigade, and in June 1916 they sailed with a new battalion to France, holding a sector near Arras while the Battle of the Somme raged not far away. 60th Division, to which Arthur's battalion belonged, spent the first half of 1917 in Salonika facing the Bulgarians, then moved to Palestine to fight the Turks. They entered Jerusalem on 9th December 1917, but Arthur Kemp was lost in fighting at Amman three months later. He is commemorated on the Jerusalem Memorial to the Missing.
His name is also recorded on the family grave in Goudhurst Victorian cemetery.