Charles Albert Hedger, died 20th September 1917, aged 20. Private 52650, 60th Company, Machine Gun Corps (formerly 23149 5th Lancers).
Charles Hedger was born in Kilndown in about 1897, the son of Samuel Henry and Kate (née Fullbrook). His father died in the year Charles was born and is buried in Kilndown churchyard. At the time of the censuses in 1901 and 1911, Charles was living with his widowed mother and the rest of the family in Rosemary Lane, Flimwell. The 1911 census notes that Charles was employed as a wagoner's mate on a farm, so his experience with horses may explain how he obtained a posting to the cavalry in the first instance, though his movements during the war have not been traced. His machine-gun company belonged to 20th Division, which was heavily involved in the Battle of Langemarck in the Ypres salient in September 1917. The precise circumstances of his death are not known, but a vivid picture of the place and the time have been recorded by a (now famous) young member of another machine-gun crew who were standing by, just behind Charles's unit, on the day he was killed: Harry Patch survived to tell the tale of how he lost his mates at Langemarck two days later. Charles Hedger's body was never subsequently identified, so his name is recorded on panel 157 of the Tyne Cot Memorial; he is also commemorated on the war memorial in Ticehurst Church
**********************************************************************************************************
Alfred Izzard, died 30th December 1917, aged 27. Corporal 34696, 8th Battalion, Prince of Wales' (North Staffordshire Regiment) (formerly 1708, Royal Engineers)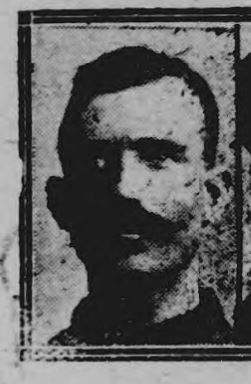 Alfred Izzard was born during the autumn of 1890, the illegitimate son of Martha Neve and Alfred Izzard, and registered as Alfred Izzard Neve. A few months later, at the time of the 1891 census, 'Alfred Izzard' and his parents were living in Tunbridge Wells. His parents married in 1892 and then settled nearby in Rusthall. Alfred was baptised as Alfred Izzard on 8th Mary 1892, in St John's Church, Tunbridge Wells. In 1910, and reverting to his original surname of Neve, Alfred married Eva Glover at St Paul's Church, Rusthall. He enlisted in the army in Southborough, near Tunbridge Wells, on 1st January 1915 as Alfred Izzard, stating that his place of birth was Goudhurst, that he was a scaffolder and timberman by trade and had previously served in the Royal West Kent Volunteers for five years: this statement on his attestation papers is the only documentary link between Alfred and Goudhurst.
On enlistment he was posted to the 2/6th Company, Kent Fortress (RE) in Gillingham. On 2nd February 1916 he was transferred to 'A' Company, 13th Battalion Training Reserve, before joining the 8th Battalion of the North Staffordshire Regiment on 31st December 1916. They spent the first three months of 1917 at the northern edge of the old Somme battlefield, and then the battalion was moved to the Ypres salient where it played a successful part in the Battle of Messines (7th June). Its next major action came in an attack south of the Menin Road on 20th September during the 3rd Battle of Ypres, when it suffered 274 casualties.
Alfred Izzard and his battalion finally left the Ypres salient early in December of 1917, being transferred to the Cambrai sector in the wake of the big battle there. He was killed on 30th December 1917 during an assault by German artillery and infantry on British positions at Marcoing, about five miles south-west of Cambrai. He is buried in Ribécourt British Cemetery, where his grave reference is I E 2. His name is also commemorated on the war memorial in Rusthall.
Sevenoaks Chronicle 18th January 1918
Corpl. A. Izzard
Mrs Izzard of No. 30 Hill View-road, Rusthall, received a letter on Monday from the Chaplain to the Company Informing her of her husband. Corpl. Alfred Izzard having been killed instantaneously in France by shell on the 30th December and that he had been reverently buried near many other fallen comrades in France and a cross placed on the grave. He was 27 years of age, and had been in the Army three years, joining up in the Kent (Fortress) Engineers, but he was later on transferred to the -th North Staffords on being sent out to France on the 1st January 1917. He leaves a widow and four little children.
*********************************************************************************************************