Charles Edward Kemp, died 27th June 1917, aged 37.
Private 27471, 23rd Battalion, The Duke of Cambridge's Own (Middlesex Regiment).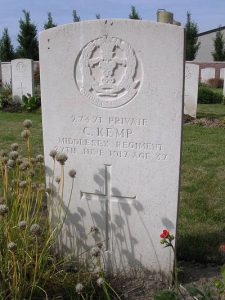 Charles Kemp was born 19th November 1879 and brought up in the Flimwell/Ticehurst area but spent most of his working-life around Winchet Hill and Combourne. He joined his battalion in the Ypres Salient in the winter of 1916/17, though his first major action was not until 7th June 1917 at the Battle of Messines, attacking in the wake of a series of huge mine explosions under the German positions. More than half the battalion became casualties in the next 5 days. The survivors enjoyed only a week's respite before resuming routine frontline duties, and Charles Kemp was among the small but regular toll of fatalities incurred soon afterwards. He is buried in Bus House Cemetery, south of Ypres.