Charles Henry Maitland, 20th October 1918, aged 19.
Private 42609, 4th Battalion, North Staffordshire Regiment.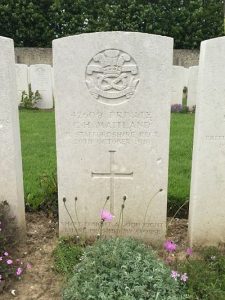 Charles was born 20 October 1918 and brought up in Bluecoats Lane, attended Goudhurst School, and then worked locally as a gardener. Under emergency measures, he went to France before his 19th birthday and first saw action in April 1918, holding the line on the Somme where the German advance had been halted but by no means reversed. In July his battalion moved to the south of Ypres, alternating between training and frontline duties. At Zandvoorde on 28th/29th September, the 4th North Staffordshires mounted their first attacks, in the course of which Charles was severely wounded. Charles Maitland was evacuated to a hospital near Boulogne but died there three weeks later and is buried in Terlincthun British Cemetery. His brother William died on the Somme in 1916.
Parish Magazine, St Mary's, Goudhurst, November 1918
We would express our most sincere sympathy with Mr and Mrs Maitland. Pte Charles Maitland was reported seriously wounded, then news came that his leg had been amputated, and he succumbed to his injuries. He was only 19 years of age, and had grown up in Goudhurst, working on Finchcox Farm. The is the second son of this family who has given his life for his country.
Parish Magazine, St Mary's, Goudhurst, December 1918
Pte. Charles Maitland, North Staff, was born in Blue Coat Lane, and educated at Goudhurst. He worked at Bedgebury and Ballards and joined the army on reaching the age of 18. He went to France on April 1st 1918, and was severely wounded in the thigh in October. His leg was amputated, but this did not save his life and he passed away in November in his 19th year.
Kent & Sussex Courier 1st November 1918
Pte. Maitland
Mr Thomas John Maitland of Blue Coats Lane, Goudhurst, has received notice of the death of his second son, Charles Henry Maitland, in France, on the 20th ult., at the age of 19. After passing creditably through the Village School, the lad was employed as under-gardener first at Bedgebury and then at Ballards Court. When he attained the age of 18 he joined up, and at Easter of the present year he crossed over to France, and on the 30th September was wounded in the thigh. It was found necessary to amputate the right leg and death occurred on the 20th October. The Chaplain, in a sympathetic letter to the mother, spoke of the deceased as a "a dear good, brave lad", and the Matron of the South Australian General Hospital, France, in a kind letter to the mother, assured her that everything possible would be done for her boy, and asked her to please feel that the laddie was amongst friends, who would help him in every way possible. An elder brother of the deceased was killed in action in France in July 1916.