Charles Robert Vousden, died 7th August 1918, aged 26.
Private T/240808, 7th Battalion, The Buffs (East Kent Regiment).
Charles Vousden was born at Hope Mill Cottages, Goudhurst, on 1st April 1892 the illegitimate son of Ruth Smith, who was living in the same house as widower, James Turner Vousden and his five children. Ruth and James married in May the same year and henceforth became Charles took the surname of Vousden. His father, who was the carter at Hope Mill, died in 1909 and Charles and his mother moved to Iden Green. He enlisted in August 1915 but his movements in the war are unknown until the final stage. It is known, however, that he married Edith Tester at St. Mary's Church in April 1917 and she had a daughter, Elsie, on 10th July 1918. Charles probably never saw his daughter, as he was killed exactly four weeks later on the Somme: this was during a period of heavy shelling south of Albert, the day before the Allies began their final advance to victory. Charles Vousden and 37 of his comrades died in that attack; he is commemorated on the Pozières Memorial to the Missing. His younger brother, George Henry Vousden was killed in 1917.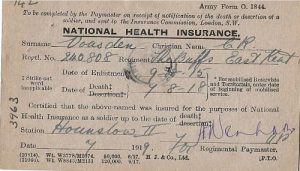 Parish Magazine, St Mary's, Goudhurst, October 1918
Private Charles R Vousden, of 7th Bat. Buffs, is reported as missing, and had been missing for ten weeks. But as there is no evidence of his death it is hoped that he is a prisoner.
Charles Vousden was also a member of the Goudhurst Oddfellows Lodge: Membership Application form