Cole Oddfellows applicationErnest Cole, died 15th November 1914, aged 25.
Lance-Serjeant 14511, 2nd Battalion, Grenadier Guards.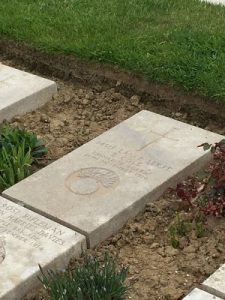 Born 17th January 1889 in Tonbridge, the family later moved to Goudhurst where they lived in Blue Coats Lane.; Ernest worked at Crowbourne Farm before enlisting in 1909. He was probably the very first Goudhurst soldier to arrive in France, landing at Le Havre on 13th August 1914, he was wounded in action near the Menin Road, Ypres, and died in hospital at Boulogne. He is buried in Boulogne Eastern Cemetery.
Kent & Sussex Courier 11th December 1914
The late Ernest Cole second son of Mr Stephen Cole for the last 26 years residing at Blue Coat Lane, Goudhurst was employed as ganger of platelayers in the South Eastern Railway. After working for a time on Crowbourne Farm he enlisted in the 2nd Battalion Grenadier Guards five years ago last month. On the 4th of last August he set sail from England for the seat of war. The last post card received from him was dated 23rd October and the news of his death reached his relatives on the 24th November. On the first Sunday after this date the flag was hoisted half-mast high on Goudhurst Church tower, and a special form of prayer was used at the evening service a the Parish Church with reference to the death of our fellow parishioners osn. The late Lance-Sergt Cole would have been 26 years of age next month. He was married and he leaves behind him a widow and one little boy. The father, the mother , the widow and all the other members of the Cole family have the sympathy of all who know them., and they have the satisfaction of knowing that their relative fell in action while fighting bravely to keep old England free from invasion.
Appended is a copy of the Chaplain's sympathetic letter, announcing to the mother the death of her soldier son.
Nov. 20th 1914, Boulogne Base
Dear Madam – I am writing just a short line to tell you that Lance-Sergt Cole, 14511, Grenadier Guards , passed to his rest on November 15th in this Hospital (No. 13 General Hospital). He was faithfully attended to the last by the doctors and nurses. He was wounded in the abdomen and from the first his case was a very dangerous one.
I only had a chance of one short conversation with him, but he seemed to have everything he wanted and was bearing the great pain and weakness with great ….. and patience.
I saw him once after that but he was asleep so I did not disturb him and the next time I came I heard that he had gone.
Someone has written home for him and I had not got your address. I am therefor asking the Commanding Officer of the Grenadier Guards in London to forward this letter to you.
Lance-Sergt Cole's grave number is 724 in the Boulogne Cemetery. I pray you may be comforted in your great sorrow.
Yours very truly, Hedley R Burrows, Chaplain to the forces.
Ernest Cole was also a member of the Goudhurst Oddfellows Lodge: Members Application form