Frank Oliver Page, died 28th October 1914, aged 24.
Private L/8700, 1st Battalion, The Buffs (East Kent Regiment).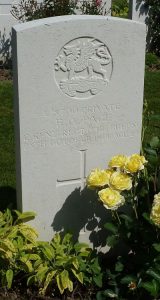 Although he was known in the Army as Frank Oliver Page, at the time of his birth on 13th March 1898 he was registered as Oliver Frank Page and was generally known in the family as "Ollie". He was born at Heybridge in Essex, although by 1914 the family home was at Mill House Cottages, Church Road, Goudhurst. In 1907 he joined The Buffs (East Kent Regiment) and by 1914 when war was declared he was serving with the regiment in Ireland. His battalion was transferred to France where they landed in September 1914. Just a month later he was killed in action at Bois-Grenier, near Armentières. He is buried in Y Farm Military Cemetery.
Kent & Sussex Courier, 13th November 1914
Killed by a German Sniper
Private Oliver Frank Page, 1st Battalion "The Buffs" who was shot through the head by a German sniper on October 28th. Pte Page was the son of Mr and Mrs Charles Page, Goudhurst and was a promising young soldier, 24 years of age, who had seen seven years with the Colours, and previously had seen service with the old Cinque Ports Royal Garrison Artillery (Volunteers). He was employed as a messenger at the Front, and was shot while engaged in his hazardous duties. Mr and Mrs Page have three other sons at the Front, one being in the 5th Lancers and one in the Buffs, while the third is in the Navy. Mrs Page informed our representative that she came of a fighting stock, her father being a Sergeant-Major in that famous Regiment, the Black Watch. She was informed of her youngest son's death by a letter from her other son in the Buffs. The writer spoke highly of his brother's bravery and how he did his best to help his comrades in the trenches with welcome gifts of food and wine, which he received while in the various villages in France. The Buffs had had a terrible time at the Front and have been in the thick of the fighting.
On Sunday the flag was floated half-mast on the church tower and a special prayer was used in the service with reference to the deceased.
Frank Oliver Page was also a member of the Goudhurst Oddfellows Lodge: Membership application form