Frederick Henry Arnold, died 18th November 1917, aged 23.
Private TR/9/76951, 26th Battalion, Training Reserve.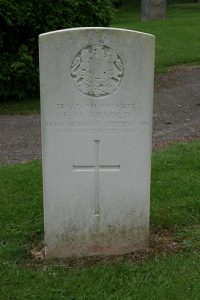 Born 24th August 1894 in North Road, Goudhurst, Frederick Arnold had a tragic life: his mother died when he was 5, his father was a chronic alcoholic who beat him, and he was epileptic. He enlisted in November 1915 but was discharged on medical grounds after five months. Somehow he later managed to enlist again, but had progressed no further than the Training Reserve when he succumbed to meningitis and died in an Isolation Hospital at Tring in Hertfordshire, where he is buried in the local cemetery.
Kent & Sussex Courier 4th December 1917
Private Frederick Arnold (Royal West Kent Regiment) was working with his father when he was called to the Colours. He had bad health, and after some months' service he was discharged. He was, however, enlisted again, and he died in Tring Hospital in his 24th year.