Frederick Percival Tester, 8th September 1914, aged 21.
Driver 68417, 'L' Battery, Royal Horse Artillery.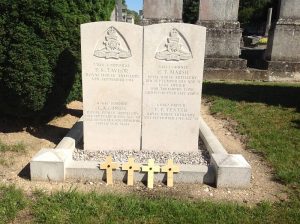 He was born in Farningham, Kent on 17th September 1893. By 1911 the family home was at Wickham's Cottages in Lidwells Lane and later in Stoney Lane, in the centre of Goudhurst. On the contemporary (wooden) war memorial in the porch of the parish church his name is shown as F. Percy Tester, so it would seem that locally he was better known as Percy.
At the outbreak of war he was already serving with L Battery of the RHA and would have been one of the first Goudhurst men to arrive in France with his unit in August 1914. He was also the first Goudhurst man to die in the war from wounds sustained on 1st September 1914 at Néry during the Retreat from Mons. He is buried, along with five of comrades, just inside the entrance to the communal cemetery in the French village of Baron.