George Arthur Baker, died 28th September 1916, aged 34.
Private 10795, 1st Battalion, East Surrey Regiment.
Born on 20th December 1881 he spent most of his life at Combourne in the property known as Baker's Farmhouse, named after his father who was a hop farmer. Despite his important role on the farm, George Baker was called up in April 1916. He joined his battalion on 13th August when they were re-grouping after suffering severe losses in the Battle of the Somme. They returned to the Somme at the end of August, and George Baker died there only four weeks later from wounds sustained in the Battle of Morval. He is buried in Grove Town Cemetery, near Albert.
Kent & Sussex Courier 20th October 1916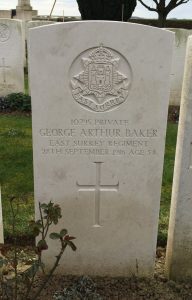 Pte. G. A. Baker
Mr John Baker of Combourne Farm, Goudhurst has received official notice that his only son, Private George Arthur Baker, aged 35 years, was killed on September 27th (sic). A letter had been received from him on September 23rd. After leaving Bethany House School, the deceased worked with his father on Combourne Farm, and (his mother being dead) he was his father's constant companion and an invaluable (almost indispensable) assistant to him in his business. In August last he joined up and after a month's training at the Base Camp in France he went forward to the fighting line. He received severe wounds in the abdomen: his case was considered hopeless from the first and he died in a French Hospital shortly afterwards.