George Chestney, died 5th January 1917, aged 33.
Private G/12748, 10th Battalion, The Queen's (Royal West Surrey) Regiment.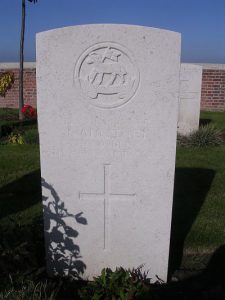 Born in 1883 and brought up at Stanhoe in Norfolk, he moved to Goudhurst in the early 1900's and worked as a gardener at Brandfold. He married Annie Davey in St. Mary's Church in 1914 and they had one daughter, Vivienne, in August 1915. George Chestney joined the army in June 1916 and had probably been abroad for less than three months, entirely in the Ypres salient, when he was killed during a German artillery bombardment. He is buried in La Clytte Military Cemetery, five miles south-west of Ypres. Two of his brothers were also killed in the war.
His name is also recorded on the family grave in Goudhurst burial ground.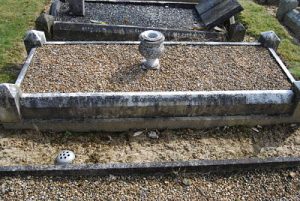 Kent & Sussex Courier 2nd February 1917
Pte. G C Chestney
Private George Chestney, Queen's Royal West Surrey Regiment (formery a gardener on the Brandfold Estate), son-in-law of Mr George Davey, of Goudhurst, was killed in action on the 5th of January at the age of 37. He leaves a widow and one child aged 17 months.