George Forward, died 16th May 1918, aged 40.
Private 52977, 13th Battalion, Royal Fusiliers (City of London Regiment); attached to 153rd Field Company, Royal Engineers.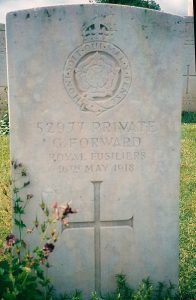 George was born on 27th November 1877 and grew up in Lamberhurst, living at Finchcocks farm and working there as a waggoner before the war. Near the top end of the age-scale for military service when joining the army in 1916, he went abroad in April 1917 among reinforcements for the 13th/Royal Fusiliers after the Battle of Arras. His first few months were relatively quiet, but for five days from 30th September 1917 they were involved in fierce fighting in the Third Battle of Ypres; the winter was spent resting and re-grouping. By April 1918, George Forward was with Royal Engineers attached to his battalion. He died as a result of gas shelling, at 56 Casualty Clearing Station and is buried in Bagneux British Cemetery near Doullens.