George Samuel Blunt, did 3rd August 1917, aged 35. Private 42270, 32nd Battalion Royal Fusiliers (City of London Regiment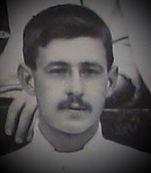 and
Percy Blunt, died 17th October 1918, aged 28. Private S4/218557, 1002nd Horse Transport Company, Army Service Corps.
Brothers George Samuel and Percy Blunt were born in Goudhurst on 18th November 1881 and 12th September 1890 respectively and were among twelve children born to William and Annie Blunt (née Thorn) of Clay Hill Mount, Goudhurst. The census for 1901 shows the family living at Banstead in Surrey, where William was employed as a bricklayer. The 1911 census shows George, by now married to Nellie Taylor, still living in Banstead and working as a house-painter. Percy – still single – was employed as a grocer's assistant; he subsequently married Edith Fairweather in 1916.
George Blunt was killed in action at Pilckem Ridge a few days after the 3rd Battle of Ypres began. He was counted among the missing, so he is commemorated on the Menin Gate in Ypres, where his name appears on panel 6.
Percy Blunt died in Palestine, almost certainly one of many victims of malaria contracted during a journey by units of the British army from Damascus to Aleppo. He is buried in Beirut War Cemetery, where his grave reference is 36.
More information can be found here: