Hugh Luck, died 26th October 1918, aged 29.
Driver 54729, 5th Army Brigade HQ, Royal Field Artillery.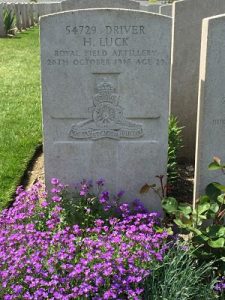 Hugh was born in Goudhurst on 11th June 1889. When war broke out in 1914 he was a regular soldier in the Royal Field Artillery, probably in India at the time. He appears to have arrived on the Western Front on 6th November 1914, but after that his movements are unknown, though it is likely that he belonged to a unit which saw action at various times at Ypres, Vimy and the Somme. Having survived nearly four years on the Western Front, Hugh Luck died of pneumonia – quite possibly brought on by the Spanish flu epidemic then sweeping through Europe – in a hospital at one of the great British base camps far behind the lines in Rouen, where he is buried in Saint Sever Cemetery Extension. His name is also on the family grave in Goudhurst. His brother Albert died at Arras in 1917.
Parish Magazine, St Mary's, Goudhurst, December 1918
Driver Hugh Luck, R. G. A. was born at Bockingfold and educated at Winchet Hill. He worked with his father on the farm until he was mobilised for the army. He died in Hospital from influenza and pneumonia in October. He was in his 24th year, and was to be married as soon as he could come home on leave.
Hugh Luck was also a member of the Goudhurst Oddfellows Lodge: Membership application form