Joseph Piper, died 30th November 1917, aged 19.
Private 27913, 2nd Battalion, Hampshire Regiment.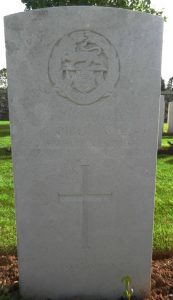 Joe Piper was born in Rusthall on 3rd January 1898 but later came to live with family at Three Oaks Inn, Curtisden Green and attended Winchet Hill School. He joined up while still only 18 and went to France in April 1917. In June his battalion moved to the Ypres Salient in anticipation of the Third Battle of Ypres. They went over the top near Langemarck in August and again two months later at Poelcapelle, an action in which Joe earned the Military Medal: he is the only man on our memorials with an award for bravery. His battalion took part in the successful opening phase of the Battle of Cambrai, but Joe Piper was killed when the Germans counter-attacked 10 days later. He is buried in Flesquières Hill British Cemetery.
Kent & Sussex Courier 18th January 1918
High Brooms, Pte. J Piper
Mrs Piper, 20, Weare road, received information from the War Office a short time ago that her son, Private J Piper, Hants Regiment, was missing. After receiving the information Mrs Piper wrote to the Commanding Officer of her son's Regiment, asking if he could give any particulars and she has received the following letter: "In answer to your letter of the 31st ultimo, I am sorry to say that your son has been missing since December 2nd. He was my Platoon runner and won his Military Medal while with me. He was attached to the Battalion Headquarters during the Cambrai battle and as I was in command of another Company at the time I did not hear of his fate until December 7th and I have being longing and praying he might rejoin his comrades, but in vain. He was carrying a note from Battalion Headquarters to a Company in the front line and after duly delivering that he was not again seen, but I am hoping he is a prisoner". Private Piper joined the Army as a Gunner in November 1916 and afterwards was transferred to the Infantry and was drafted to France in April 1917. He won the Military Medal in October 1917.
Kent & Sussex Courier 15th February 1918
Our Soldiers
Pte. Joseph Piper, Hampshire Regiment is reported missing. Mr Bloor (his former teacher) speaks of him as always a most conscientious and thorough lad. The Colonel writes that Piper was recommended for the Military Medal in October last and he trusts and prays that he may prove to be a prisoner.