Percy Eustace Penfold, 7th October 1916, aged 21.
Lance-Corporal G/6338, 6th Battalion, The Queen's Own Royal West Kent Regiment.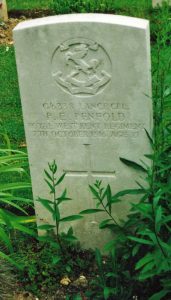 Percy was born in Goudhurst on 26th March 1916 where the family home was in Beresford Road. He joined his battalion near Loos in December 1915, only two months after his older brother Herbert had been declared "Missing" from the battle there in October the same year. The battalion eventually moved to the Somme, and suffered 60% casualties in an attack at Ovillers on 3rd July. After further attacks in August and then several weeks' rest, it took part in the same attack as James Luck. Percy Penfold is buried in Blighty Valley Cemetery at Authuille Wood, about three miles north of Albert.