Thomas Hugh Wickham, died 16th January 1916, aged 24.
Private T/1160. 1/5th Battalion, The Buffs (East Kent Regiment).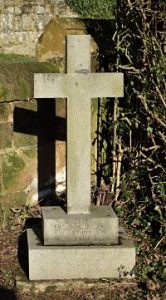 A member of a prominent farming family Thomas was born at Cloth Edge, Goudhurst on 4th September 1891, brought up at Mount Pleasant House in Ranters Lane, and educated at Cliftonville College for Boys in Margate. Known as Tom, he was a keen sportsman and worked with his father on the family farm at Finchcocks. In December 1913 he and his brother Jack (John) enlisted in the 5th Buffs Territorials, and they subsequently went with the battalion to India and Mesopotamia. In January 1916 Tom Wickham died of wounds but his body ultimately remained unidentified, so he is commemorated on the memorial to the missing at Basra. His name is recorded on the war memorials in both Goudhurst and Kilndown. There is also memorial cross (pictured) to him in the Wickham family enclosure in the Victorian Cemetery in Back Lane, Goudhurst.
Kent & Sussex Courier 4th February 1916
Goudhurst Man Killed
In answer to an enquiry, Mr Benjamin Hugh Wickham of Mount Pleasant, Goudhurst, has recently been informed that this son, Private Thomas Hugh Wickham (1-5th Battalion, The Buffs, East Kent Regiment) of the Expeditionary Force, Persian Gulf, died of wounds on the 16th January last. Mr Wickham joined the 5th Buffs about twelve months before the war broke out and on 30th October 1914 sailed for India. About the 18th December last his Regiment was ordered to Mesopotamia where his death took place at the age of 24. At home he was very popular, being an athlete, a keen sportsman, a member of the cricket team and Secretary to the Football Club. His younger brother, Private John Noakes Wickham, ("Jack") is still serving with the Colours in the Persian Gulf. The bereaved parents have sympanthy of a large circle of relatives, friends and neighbours.