Thomas William Relf, died 11th May 1915, aged 18.
Driver 95251, 6th Depot, Royal Field Artillery.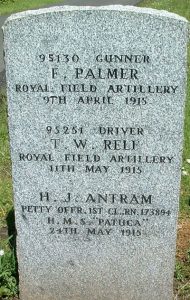 Thomas was born in Burwash, Sussex on 14th November 1896, and had moved with his family to Goudhurst by 1901. The family home was at Combourne Farm, Goudhurst, where he worked alongside his father as a carter and ploughman, his experience with horses suiting him for a position as Driver. Though an early volunteer for the army, he never left the UK. His unit was based in Glasgow, and he died there in Maryhill Barracks of double pneumonia. He is buried in Glasgow Western Necropolis.
Thomas Relf was also a member of the Goudhurst Oddfellows Lodge: Membership Application form