Walter Guy Judge, died 23rd March 1918, aged 31. Acting Corporal 51350, 16th Battalion, Cheshire Regiment (formerly S/27162, Army Service Corps).
Walter Judge was born in Goudhurst in the autumn of 1886, the son of Alfred William and Susan (née Walter). In 1891 the family was living in Marden where Alfred ran a bakery business, but by 1901 a widowed Susan Judge had taken her family to live with her brother Alfred, a butcher, in Dover.
Walter Judge enlisted in the Army Service Corps in Chatham on 20th November 1908 aged 22 years, stating that his place of birth was Goudhurst and that he was a butcher by trade. At the time of the 1911 census, he was with his unit at the Ewshott Barracks, Hartley Wintney, Hampshire and, having nearly completed his first term of service, he was transferred to the Army Reserve on 19th November of that year. He married a widow, Minnie Baker, in Faversham on 11th May 1913. As a Reservist, he was one of the first to be mobilised at the outbreak of war, re-joining his regiment on 7th August 1914 and being posted to France with the BEF on 11th.
Apart from a brief stay in hospital in 1916 suffering from measles, and some home leave in January and February 1917, Walter appears to have spent his war years on the Western Front, mostly with the ASC. On 24th September 1917 he was transferred to the 16th Battalion of the Cheshire Regiment who then fought in the Second Battle of Passchendaele in October/November. He was killed in action on 23rd March 1918 as the British army retreated across the old Somme battlefield during the Germans' do-or-die spring offensive and, as his body was never identified, his name is recorded on the Pozières Memorial to the Missing, panels 35 and 36.
**********************************************************************************************************
Charles Edward Kempton, died 7th January 1916, aged 21. Corporal T/1015, 1/5th Battalion, The Buffs (East Kent Regiment).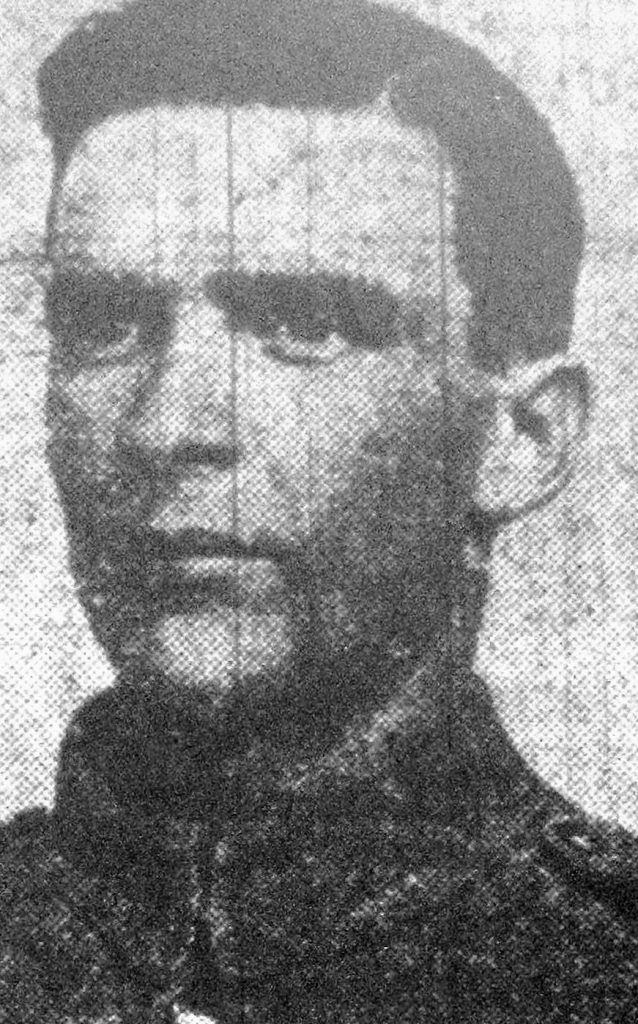 Charles Kempton was born in April 1894 in the London Borough of Southwark, the third of ten children of John Charles, an electrical engineer, and Kate Ellen (née Hartley). The family moved to Kilndown at some time between 1902 and 1904, and Charles attended Kilndown School before becoming an apprentice at Messrs. Oliver's motor works in Hawkhurst. His father was then employed as an estate engineer, probably on the Bedgebury Park Estate, and in 1908 collaborated with William Henry Allwork of Kilndown on a patent for "the improvement in an apparatus for stopping trains, independently of drivers."
Charles joined the 1/5th Buffs (Territorials) at Hawkhurst on 20th March 1912 and, once war had broken out, like many Territorials from our parish he volunteered to serve overseas with the battalion. Along with them he left for India in October 1914 and thence for Mesopotamia in December 1915. He was killed in action on 7th January 1916 during the battalion's first engagement with the Turks and is buried in Amara War Cemetery, where his grave reference is XXXI C 9. He is also commemorated on the war memorial in Hawkhurst. By the time of Charles's death, the family appear to have left Kilndown for Godalming in Surrey, where John Kempton became chief engineer at Westbrook Mills. He was killed in an accident at the mills in 1917.
Kent & Sussex Courier 17th March 1916
Corpl. C. E. Kempton, of Goudhurst is reported killed in action on January 7th in Mesopotamia. He was an old boy of Kilndown School and an apprentice to Messrs. Oliver's motor works at Hawkhurst, after which he was a chauffeur. He enlisted in the Buffs at the outbreak of the war, and left Hawkhurst for India in October 1914 and proceeded to the Persian Gulf in November 1916. He has a brother serving in the R. A. M. C. in France. He would be 22 next April and was very popular in Hawkhurst as a brave and energetic lad.
**********************************************************************************************************