Walter Henry Austen, died 3rd October 1918, aged 27.
Private CH/18247, 1st Battalion, Royal Marine Light Infantry.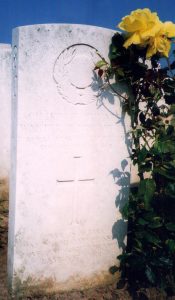 Walter was born 20th February 1891 and brought up around Canterbury, and his family later lived at Bockingfold. After working on farms, he enlisted in the Royal Navy in 1913 and first saw action abroad in 1915. He transferred to the RMLI in February 1918, and was in the thick of the fighting near Cambrai in both the great German offensive of March 1918 and the Allies' subsequent advance to victory. Seriously wounded in late September, he was evacuated to a hospital on the Normandy coast where he died. Walter Austen is buried in Mont Huon Military Cemetery at Le Tréport.
Parish Magazine, St Mary's, Goudhurst, November 1918
Pte. Walter Austen was severely wounded in the back and spine and succumbed to his injuries.