Walter Mitchell, died 4th December 1917, aged 23.
Private 245349, 2nd Battalion, Manchester Regiment.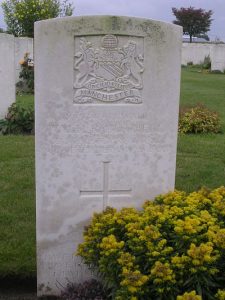 Walter Mitchell was born in East Peckham on 11th March 1894, but came to Combourne with his family at an early age and attended Winchet Hill School. He worked on Combourne and Bockingfold farms till joining up in January 1917, and he went abroad in June. His battalion enjoyed a series of relatively quiet postings on and near the Belgian coast from August to November, thus missing the major Battles of Third Ypres and Cambrai, but on 1st December it was moved to the Ypres Salient and, two days later, took over frontline trenches at Passchendaele. Walter Mitchell was among nine men of his battalion killed during its first 6-day spell at Passchendaele; he is buried in Poelcapelle British Cemetery.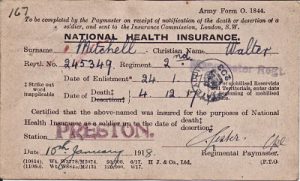 Parish Magazine, St Mary's, Goudhurst, January 1918
Our Roll of Honour
Pte. Walter Mitchell, Manchester Regiment, was born in Cranbrook parish, but he attended Winchet Hill School. He worked for four years for Mr J Baker at Little Combourne, and then at Bockingfold. He was called up in January 1917 and went to France in June. No details have been received with regard to his death. He was in his 23rd year.
Kent & Sussex Courier 8th February 1918
Pte W Mitchell
Called up in January 1917, Private W Mitchell of Goudhurst, went to France in the following June, and has been killed in his 23rd year.
Walter Mitchell was also a member of the Goudhurst Oddfellows Lodge: Membership Application form