Walter Reynolds, died 25th May 1917, aged 36.
Acting Bombardier 93465, 148th Siege Battery, Royal Garrison Artillery.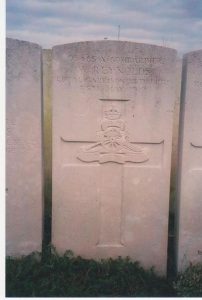 Walter Reynolds was born in St. Albans in 1880. He sang in its cathedral choir and worked in that area as a gardener until 1912 when he married and moved away to become head-gardener to John Druce at Gore Court in Goudhurst. After joining the Royal Garrison Artillery, he went to France in December 1916, eight weeks before his wife gave birth to a son whom he would never see. His unit provided long-range support during the Battle of Arras in April and May 1917, then moved north to the Ypres Salient where he was wounded only a few days later. Walter Reynolds died from his wounds in hospital and is buried at Bailleul Communal Cemetery extension.
Parish Magazine, St Mary's, Goudhurst, July 1917
Bombadier Walter Reynolds, 148th Siege Battery, R.G.A., was born at St Albans. He was brought up and educated there; and at 11 years of age was singing in the Cathedral Choir. For 16 years he was working in the gardens of Mr Taylor Garston, near Watford, he came to Gore Court as head gardener in 1911. He gave the utmost satisfaction in his professional capacity. He helped with the soldiers at Gore Court Hospital, and we shall miss him very much as he was a Communicant and a member of the choir and Secretary to the Workers Society. It adds to the poignancy of his loss that he had never seen the baby that was born to him. He was a fine type of man, willing, earnest and exercising and excellent influence. He was one of the first to volunteer under the Derby scheme and joined cheerfully when he was called up in June 1916. He crossed over to France in December of that year and was wounded on May 21st, at the time it was thought not dangerously, but he died four days later. The Sergeant-Major of the Battery wrote, "I am so sorry to lose him (as we all are). Since he has been in the Battery he has given every satisfaction and was one of my best non-commissioned officers. I shall have great difficulty in filling his place. We have had hard times, but he has never failed me, always cheerful, hard-working and trustworthy; he was a good soldier and well-like by officers and men.
Kent & Sussex Courier 8th June 1917
Bombardier W. Reynolds
We regret to have to report the death of Bombardier Walter Reynolds —–Siege Battery, R.G.A. at a Casualty Clearing Station in France, at the age of 36 years, leaving a widow and one young child. Reynolds held the post of head gardener to Mr. J. A. Druce of Gore Court, Goudhurst from April 1912 having been previously for 14 years in the gardens of Mr Taylor of St Albans, Herts. He was a member of the choir, a regular attendant at St Mary's Church and also a regular and successful exhibitor at the local Flower Show. He was a fine type of man, and was one of the first in his parish to volunteer for service under the Derby Scheme, and when called up on 5th June 1916, for service he left recognising cheerfully that it was his duty to go and saying intended to do his very best. From February 1915 until he was called to the Colours he had assisted his wife in looking after the inmates of the Gore Court Auxiliary Military Hospital. His loss is keenly felt, and he will be greatly missed by all at Gore Court. He crossed over to France on the 4th December, was wounded on the 21st of May, and died four days afterwards. What manner of soldier he proved to be, and how he did his duty to his country is gleaned from letters received by his sorrowing wife from his Commanding Officer and also comraded in his Company, who speak in the highest terms of his soldier-like qualities.