William Thomas John Maitland, died 3rd July 1916, aged 26.
Private G/8944, 6th Battalion, The Buffs (East Kent Regiment).
William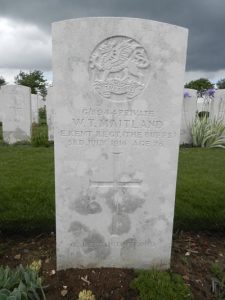 was born in Kilndown on 21st December 1889 but, at a young age, came with his family to live in Bluecoats Lane, Goudhurst. He worked as a labourer on the Wickham family's farm at Finchcocks before joining the army in February 1916. Within three months – even faster than Ernest Goldsmith – he was despatched to join the 6th Buffs in France, and he died in the same attack. He is buried in Ovillers Military Cemetery. Later in the war, his brother Charles and two brothers-in-law were killed.
Parish Magazine, St Mary's, Goudhurst, October 1916
Private William Thomas John Maitland was born at Kilndown and began his education at Kilndown, but his parents moved to Goudhurst so that he also passed through the Goudhurst School. He went to work on leaving school on Finchcock's Farm and remained employed there until he joined the Army in Ferbruary 1916. He went abroad in the 6th Buffs and was reported wounded on July 3rd, but on that day he lost his life. He was 27 years of age, quiet, reserved and with high principles.
Kent & Sussex Courier 29th September 1916
Pte Maitland killed
Mr and Mrs Maitland , of Blue Coat Lane have been officially informed that their eldest son, Private William Thomas John Maitland, aged 26 (The Buffs, East Kent) was killed in action on the 3rd of July last. He had previously been reported as wounded. Private Maitland was educated at Goudhurst Village School and then went on to Mr B H Wickham's farm at Finchcocks where he was employed for 13 years and was liked by everybody. He was called up on the 10th of February last, and after three months training at Dover sailed for France on the 18th of May. He wrote regularly twice a week to his parents, and then all at once his letters ceased. His friends at home were for a long time in a state of suspense, not knowing whether he was alive or dead, until they received a formal notice of his death from the Hounslow Infantry Record Office. Mr Thomas John Maitland and his wife are very anxious to thank Mr Druce and other kind friends who have exerted themselves to try and get information as to the facts of this painful case.